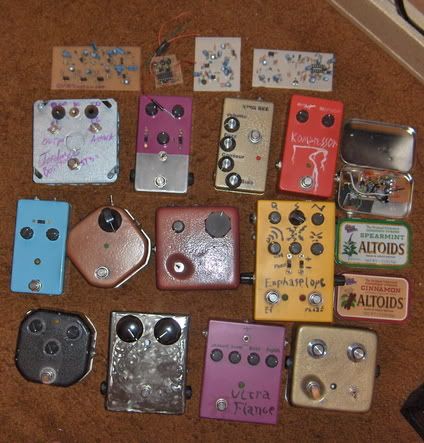 This is my vast stable of hand made devices. I have other things that I've done but these are specifically my "stomp boxes" or effects.

From the top left (uncompleted circuit boards): Tri-wave Pico Generator, 4-stage phase section-kluge, Noise Swash, Forgot what in the hell that was going to be.

Second row from left: Jordan Bosstone Fuzz clone, Mutron III Envelope Following Filter clone (for that funky porn sound--it goes up and down!), Fulltone '69 Fuzzface clone/clone (King Bee), Kompressor (Opto-isolater controlled compressor--very transparent), Four Fuzzes In One (crammed into an Altoids tin).

Third row from left: Cool Chorus (Clones both CE-2 Boss and Electro-Harmonix Small Clone--selectable), Dallas Rangemaster Treble Booster clone (Clapton's "Beano" tone), A very naughty Downward Expanding Limiter--won't work, Enphaselope--super cool and unique--a clone of nothing (more on that later), Two Altoids Tin pocket guitar amplifiers (just add a good speaker cabinet and you'll be shitting yourself in amazement at how good these things do sound).

Fourth row from left: Big Muff Pi clone (Very dense thick and bushy sustain and wave distortion--David Gilmore's distortion of choice--it can explode speakers), Octave-Up Sick Box (exactly what it sounds like--ultra exotic and nasty as hell--oh, the squeals!), Ultra flange (sounds okay), Marshall Plexi 100 in a box--this son bitch sounds great!

Okay, that is the run down. I'll have to profile a couple later and give them the whole erotic treatment.

Me geek! Geek on!! Show us your geek!!!