This is part of the face plate of my Li'l Bastard amplifier that I hand crafted. Yes, I made the son of a bitch from raw materials, electronic parts, and a little mojo to boot. "LB's" circuitry is based on the '59 Fender 5E3 Deluxe. Bruce Springsteen, Neil Young, and Billy Gibbons have played through these, although Neil Young's Deluxe is heavily modified. Even The Edge has been mixing a few Deluxes with his Vox AC30 Top Boosts. I think it gives those Vox's of his a more American tone, which equals hairy balls.

That's what Li'l Bastard is all about: warm hairy balls. It is not an amp for metal, or for clean. It covers that "heroin" territory of warm overdriven rush. It can get twangy, but on the Dark channel it goes "midnight" real fast.

It runs two 6V6GT's in push pull Class AB output, with a 12ax7 phase splitter and 12at7 parallel input--if you jumper the two channels. It's all point to point hand wired. It has all the best iron (transformers), and an Eminence "Ragin Cajun" 10 inch speaker that poses as a 12 incher. I wanted a light amp to carry around, so going with a sleeper 10 incher was clever.

The cabinet is made from solid poplar. The Tolex (upholstery) is cocoa brown, with a gold pinstripe on brown weave speaker grill, surrounded by gold piping. The chassis started out as a blank aluminum box. I cut all the necessary holes and mounting points. The front is painted with gold vein black, and with gold hand painted legend. I should've taken a picture of the internals, but I don't wanna have to shoehorn that thing back in there.

It is loud enough. It sounds divine. It sprang from me.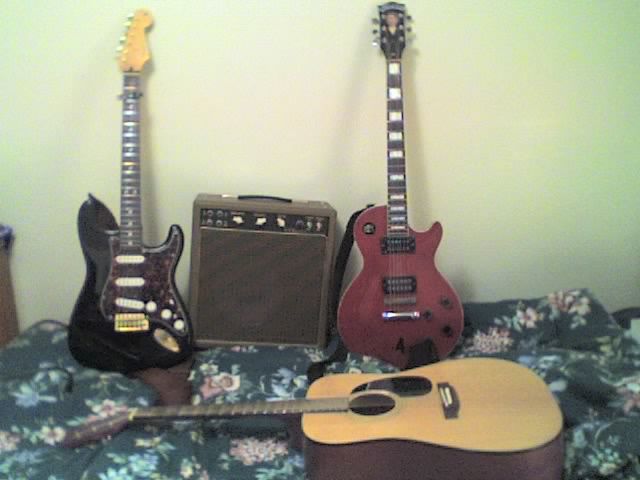 Sorry about the hugeness of the pic here, but these are three of my five guitars. The black one is a real Fender Stratocaster, a fine guitar--very chimey and clucky. The wine colored one is a bastard child Les Paul copy that I nick named "The Whale Master", and it features a faded picture of Jerry Lewis on the headstock. The blonde is an Ibanez six string dreadnought body acoustic. It is okay. I need a freakin' Martin. The twelve string blew it's bridge long ago, and my nylon stringed Yamaha classical guitar is put away for now. Li'l Bastard sits there innocently. He may be small, but damn can he ever shout.

(Not pictured are my other three amps: Frankenstein's Head, my first homebrew amp; my restoration in progress, a 1959 Gibson GA-5 Skylark amp; and my spleen buster Crate VC5310, too loud)