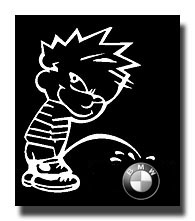 It seems like he will piss on anything nowadays. Ever since he lost his job in the daily comics he's hit the equivalent of a child actor doing Celebrity Fit Club.

He's taken his penchant for pissing to extreme levels now. I've heard that he even pissed on the Archbishop Desmond Tutu's silk robe. Dodge, Chevy, Ford, Tutu? This is madness, I say! What will be next, Pat Tillman's image wrapped in an American Flag?

Who knows what's next. When will all his mischief end? All I know is that it really is a demonstration of one's product loyalty and validation of their sense of humor if you put the image of Calvin pissing on whatever it is you don't like. I happen to not like the Smith family down the street from me. Why can't I hire Calvin to go and piss on them while I take photos? Maybe it is all done in photoshop now. There is always something getting in the way of a purely visceral experience with all this technology. Anyway, maybe Calvin and Hobbes could do a porno together full of golden showers and daring wagon rides down treacherous hills--naked, of course. I wonder if Bill Waterson has run out of money yet.