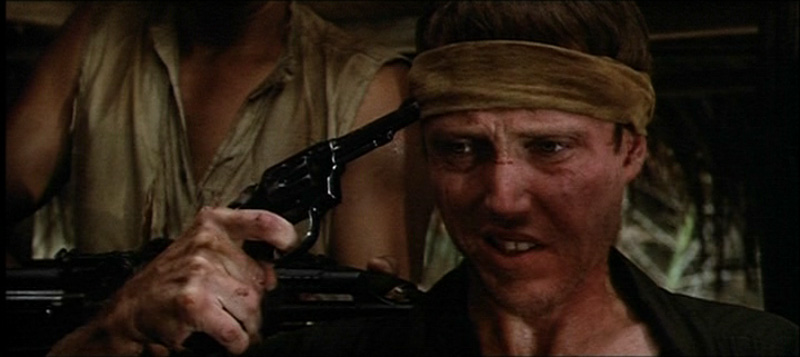 Oooooooh, this scene here is where Christopher Walken's character really gets messed up for life, yo! Or, rather, finds his true calling. By the way, I always bet on red when playing this kind of roulette.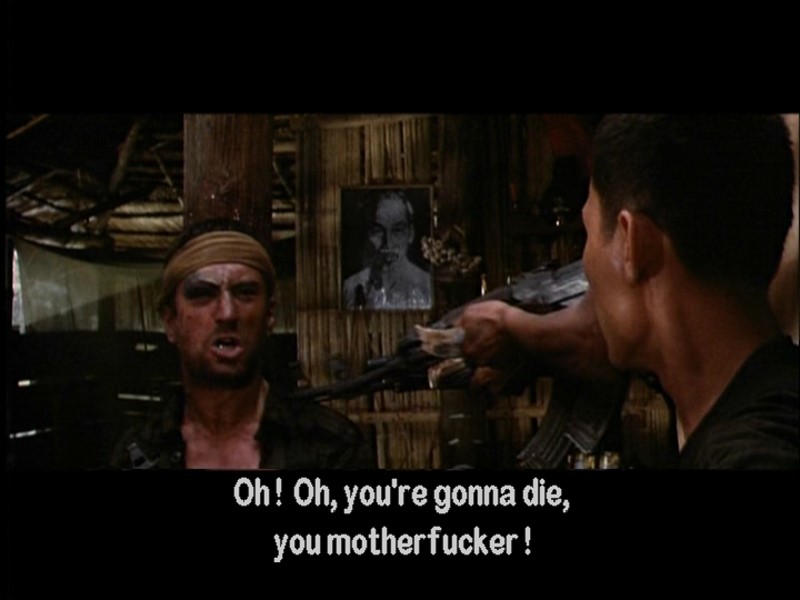 As usual, Bobby here has to play all Mr. Tough Guy, and he does it sooooo well in this movie. Bobby was like the Michael Jordan of mayhem in this scene. He even makes Rambo look like a pussy-sucka chump! Yes, they were motha fucka's, and they all did die. Take that Mr. Motherfuckin' Samuel L. Jackson.

Ah, the disconnected look in Mr. Walken's face here is just classic--not to mention the fashionable, red communist headband. That's what chasing the dragon will do to you, kiddies. Playing Russian Roulette as a way to support a drug habit is just plain cool, too. Take note of that, all you aspiring junkies. Why ride a horse with no name when you can take old trigger out for a trot, eh? That pun worked on multiple levels. I know you just wet yourself in sheer delight.

Diddy Mow!

Blammo!!!

Oscar gold, my friends...Oscar gold. Probably because Meryl Streep was so hot in this movie. Yeah, I think it is one of my faves. You all probably think I'm smokin' horse hair and kitty litter, but it is so true.