The above clip is a trailer from the 1979 cult classic horror flick "Phantasm". If you were around here almost a year ago you'd remember that I did a post about the Tall Man. You can read that post
here
.

There is just something about this film that gets me in the Halloween mood. Out of the four Phantasm films made the first is by far the best. The middle two are a bit on the howlingly bad/good time variety and the fourth is more weird and serious. Enough of my fanboy musings; let's get posty!
Now I know that there have been two other awesome as hell people, true to the cause of Gruntonia, who have bought t-shirts from me, but my good friend
Jules
was kind enough to send me a photo of her in her brand new "Gruntonian" white tank top. I thought I should share with you the photo. I did get permission, BTW.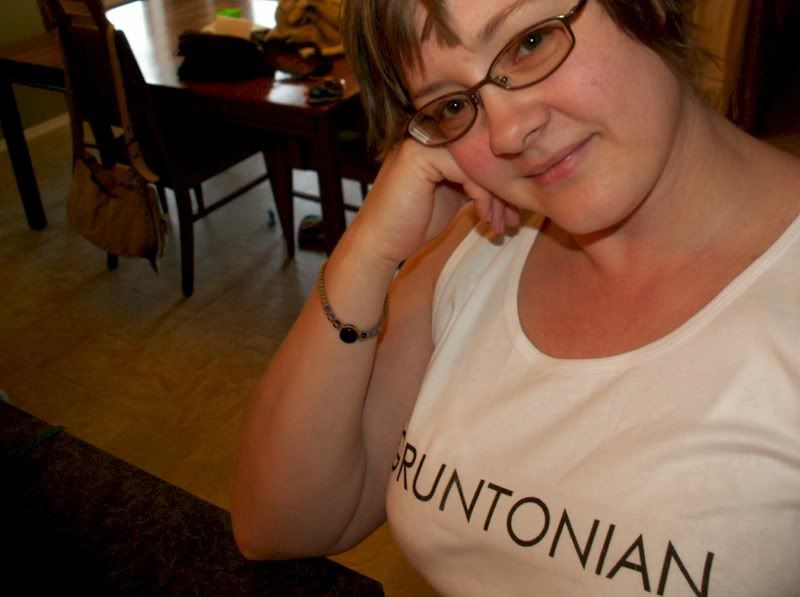 Doesn't she look ABFAB? If you have no idea what "ABFAB" means you need to study up on your Brit sitcoms--which reminds me that if you have no idea who "Old Greg" is, I'm feeling that you need to find out. Hint: He's an underwater funk machine/fish that has a light spewing mangina. Beware of fishing out on Black Lake when the moon is full. I warned y'all!