The Tall Man (Angus Scrimm, of the "Phantasm" films) is totally gay because he likes to rob people of their everlasting slumber and turn them into his dwarf slaves. He also likes to chase 14-year-old boys around, screaming, "Boooooooooooooy!" Actually, that is one of my favorite lines from any movie, ever.
His mausoleum kicks some serious ass, with all its scary marble halls; portholes to his alien worlds; scary, hooded, killer dwarfs; and the Ball.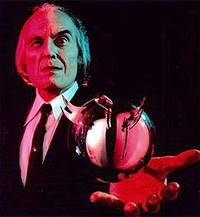 He also drove two kick ass whips, yo...
and one like this, but white..
Still, the hot shit big brother, Jody, and his pal Reggie, shared the best ride...a kick ass '70-'71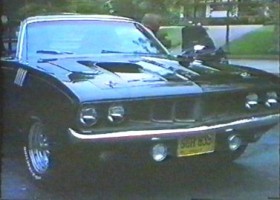 Plymouth 'Cuda with a 440 wedge (sometimes the 426 Hemi, depending on which film it was).
Okay, okay, what is really TIGF here is my screaming fan-boy appreciation for the Phantasm films and the Tall Man, and the fact that most of you probably have no recollection of or have never seen this film. If I did this on Halloween, it would have been too obvious.
Boooooooooooooy!!!