So, is it the man, or is it the ascot? Since the dawn of time, er...at least 70 years, there have been people working on this question. Even our friend, Fred Jones, is a bit mystified by this.

Fred gave up a part of his manhood to appear more sleuthy. He still managed to pull some feline, but, then again, what really happened between him and Daphne? Well, I think it is safe to say that Fred liked Daphne a lot, jeepers! Maybe, his choice to wear an ascot was part of his attempts to soften his image and appear less jockish. Maybe, he was born with the predisposed drive to wear an ascot. Who knows.

I think one thing is for sure...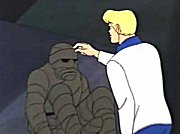 Fred liked touching scary monsters. Was he a variation, a hybrid, of a necrophilliac and one who lays with the beasts of the field? Seriously, don't leave this guy, alone or otherwise, n the same room as Sasquatch. He just might try to pull of that mask and meddle a bit.

People say that Velma was the gay one of the bunch, but I have evidence to support otherwise...

Notice the longing and the look. She has always wanted Fred, but is lost in her world of clues. How can a Velma compete in a Daphne world?
Really, the ascot is not to blame here. Ascots are TIGF, but this next character about took the whole gang down to his level, and is just plain gay, in that "Bill & Ted's Excellent Adventure" kind of way...
You can't hang an ascot on this travesty.