There has been one fashion trend that I want to see make a comeback: the codpiece. No other fashion accessory is quite like the codpiece. Why? Because it protects the genitals as well as emphasizes their readiness, whilst being noble and gallant. What more could a lady seek in a man, or men with each other?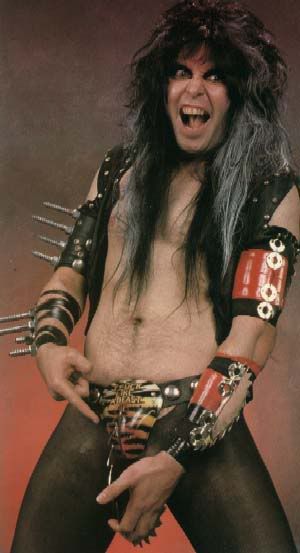 The great thing about codpieces is that they can be decorative, intimidating, festive, or the place where you can store your afternoon snacks. Hell, you can even whip out your Bedazzler and rhinestone your way into someone's pants. What other article of clothing shouts "hey, nonny nonny" in the bedroom better than the codpiece?
The codpiece has even been a way to show all of your male teenage fans that you want them to focus on the trouser rooster, not the music--because the music sucks without the codpiece. You can also store your set list or extra guitar picks in there as well.
Let's talk about combinations that go well together. What happens when loin cloths, codpieces, and Heavy Metal are combined into one theme? You get this...
Codpiece Rockers!!!